Hi all,
just thought I'd share my early thoughts on these units for those interested. This isn't a full on review as I'm no expert and not real good at that sort of thing but just my first impressions of these units so far as some have expressed interest in them.
Now for those that don't know the name Emotiva it's a US based company that sells Audio/Video gear direct via Internet with their own forums where users can talk, share and get support.
My Thoughts:
Well I've only had the UMC-1 AV Processor and XPA-5 multi-channels amp for a couple of weeks so far and to compare I was using prior to that a Pioneer VSX-AX2ASS for processing/AV switching with a couple of Pro type amps for power. The Speakers are differeing models of the Timberwolf range from local speaker maker Adelaide Speakers, the mains are a full range 4 driver 3 way design of 300wpc with the centre being a 2 way, 3 speaker of around 200wpc and the rears a 3 way with a 165-200wpc handing with all being floor standing sizes in the 8ohm range. The subwoofer is a dual 10" Peerless xxls unit with a 600w Regum bashplate amp.
Source equipment is fairly basic entry level equipment, CA 640c-V2 for CD, Sony BDP-S350 for Blu Ray, CA DVD99 universal player for DVD and SACD, Foxtel IQ2. With analog connection for the CD, HDMI for both the Blu Ray and DVD players (except I also have analong output for SACD from DVD) and HDMI for video and toslink for audio of the Foxtel IQ2 (IQ2 5.1 sound never seems to work through HDMI for me though nothing to do with the UMC-1).
Now the bit that counts more, how things sound and look.
Firstly the aesthetics and build quality seem very good and give the feeing of quality and class though this may be a personal taste thing. The weight of the UMC-1 is pretty hefty for a AV processor as it has no internal amplification and I think is around the 10kg mark. The stock supplied remote is a little ordinary in looks and build being a standard small plastic unit though for those that what a higher class of remote they do have a optional milled aluminium remote. The XPA-5 is a 5 channel amplifier that looks and feels just as good and come in at a heavy 40ish-Kg, so not a light-weight unit at all.
Now down to use, sound and picture quality.
When I first got the UMC-1 it had a few bugs, the unit while for public sale seems to be pre-production in it's firmware and has suffered differing problems depending upon set-up, use and connected equipment. I didn't have many problems with my personal unit though I wasn't a early adopter and I don;t see much point going into the small issues I had as Emotiva have released new firmware (you can download and self-install so no fear of having to send equipment back to the USofA) that I loaded and seems to have made my unit pretty stable and without real issue.
The only annoying thing I have found is that on a rare occasion I get audio drop out or loss of a channel when watching Foxtel IQ2 if I pause a show or recording when I resume. This while a slight annoyance is easy resolved normally by either pausing/cueing or just switching sound mode, it doesn't seem to have been a issue at all when just watching anything play through though.
Music is a much better sounding (even in the processing modes) with a feeling of increased depth to the soundstage in stereo and no sense of struggling, it all feels rather airy and free through all the ranges. The top end doesn't seem forward (IMO Pioneer gear tends to be a little forward/bright in it's processing) while the mids appear quite neutral though I wouldn't say veiled as they still seem quite clear. Much to my personal liking anyway and seems a big improvment overall in sound to most AVR's I have heard for the musical side, certainly lends itself more in this regard to my old Pioneer AVR.
Movies I feel too there is a improvement in sound, the LFE and lower frequencies when watching Blu Rays seem to have much more impact, and the sound stage seems deeper with slightly better separation and my wife's comment was "it had much more feeling, emotion and depth" and has found herself much more engauged with the movie and found more realisim. She actually feels tense and excited when the movie sound tracks had such sections making her feel more a part of what was happening than just watching.
Video processing seems quite good to very good also as I'm using it to upscale everyting to 1080p with a very clean image, the only let down is that the video pass-trough isn't a true pass-trough and the upscaling option is global only. The picture quality is vivid and as good or better than the direct or upscaling in any of my other devices, very clean.
Well thats about it, all I can think of saying. For me I think it has been quite a step up from my Pioneer AVR in the processing side for sound on both music and movies as well as for video processing. The audio drop out issue seems rare and random in my case and while annoying is a small quirk I can live with. Emotiva will hopefully address this issue and any others that pop up with future firmware upgrades as they seem to give quite good support.
Purchasing from them even though I'm in Australia went without a hitch and they were smiple and a pleasure to deal with. Very fast and efficient with items taking about 6-8 working days to arrive, well packed in double boxing and the price was the best part as even with the high cost of shipping and exchange rates at the time of purchase both units together only cost $2k which is about the same as upper mid level AVR's cost. Which leaves futre upgrades being cheaper needing only to upgrade the AV processor and with that in mind I also think Emotiva have some sort of on-going upgrade deal for it's customers. The other good news is no need for stepping transformers as this gear is fine and auto selects our voltage and power here, just need a Aussie IEC standard power cord as the supplied cord has a US type plug on it.
These units may not be to everyones liking or needs as we're all different but so far I'm very pleased and they do seem to be a value for money option, certainly in this kind of gear. It's still early days for me and I'd like to have more listening so these are just first impressions I guess. I'm still waiting to set up room equalization but the supplied mic was failty so am waiting on replacement. Just one guys take and if your in SA your welcome to come have a look/listen for yourself.
Couple of pics
UMC-1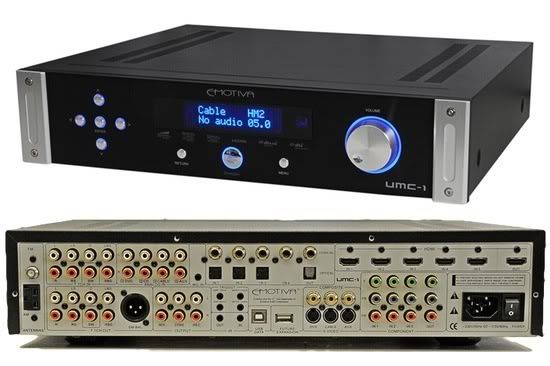 XPA-5